SEWING ROOM!!!! My son moved to his own place last weekend, so the room he was in became a guest room/storage room/office, while the room where my drafting table was became my sewing room. I have been dreaming of this for months! I started at 8:30 Saturday morning and worked almost non-stop until 8:30 pm...I had a brief break once I moved the desk in for my sewing table and realized that I needed shelves for all the supplies! So I dashed off to the home improvement store and bought a couple of 'do it yourself, easy assembly' shelve sets (False advertising - see below!). I moved boxes, bookcases, clothes, made up the guest bed, vacuumed (twice), dusted, rearranged, built two sets of shelves, did 4 loads of washing and generally wore myself out...I am exhausted and sore, but very happy!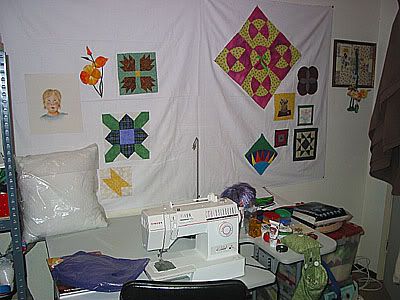 This is my 'design wall' - 2 yards of white diaper flannel.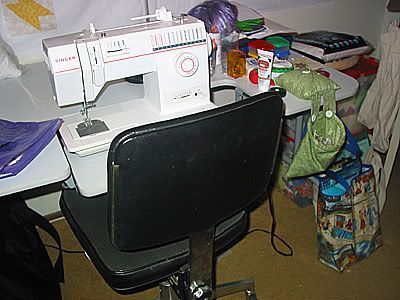 This is the computer desk I appropriated for my sewing table...Notice the machine is set on the keyboard holder so that its level with the table. Haven't tried this setup yet, but sitting in front of it is comfy!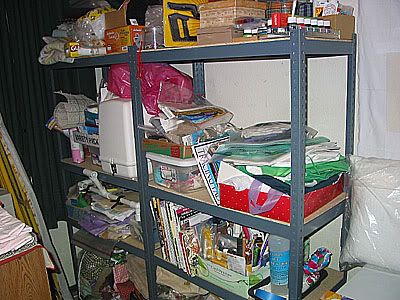 These are my storage shelves. I had to build them...I cast aspersions on their parentage and the parentage of the designers...the air was a bit blue...everytime I would 'tap' one brace in, another one would pop out...the whole thing collapsed several times...but I perservered and...have shelves..very FULL shelves...I did not realize just how much quilting stuff was stashed around the house! But, its all in here now.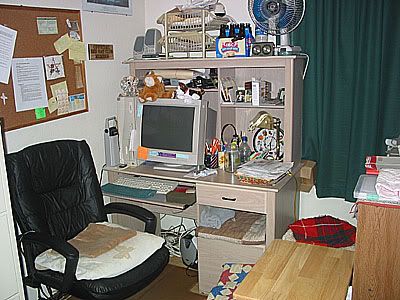 This is my office, where several times a week I work from home...love the 6 second commute!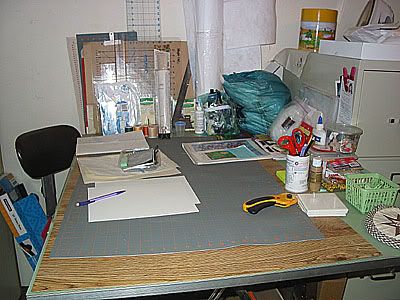 This is my drafting board - cutting table... I love that its just the right height for me so my back does not get sore.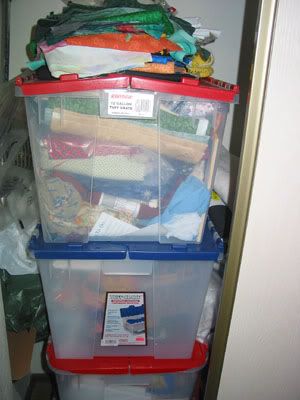 This is my stash...it needs reorganizing...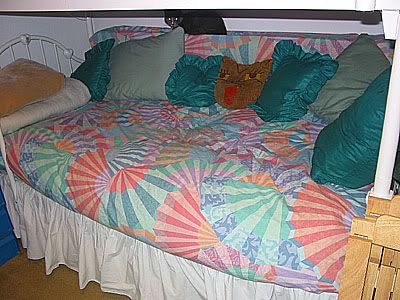 This is the bottom bunk in the other room made up as a daybed. It needs its own quilt! I think it turned out pretty cute. I used the mattress from the top bunk for a bolster - the top bunk is being used for storage - mostly wrapping paper and the junk (err, 'stuff') my DD left in the closet when she moved out. Notice Misty the Cat enjoying the bolster! (all three cats have explored the area and have given their stamp of approval on the improvements)