One of the classes that I went to during August was Fabric Painting. This is the last in the series that we have been taking for fabric dyeing.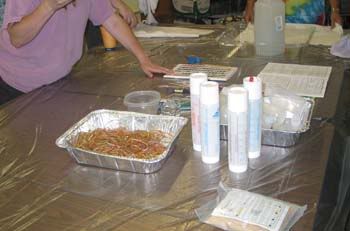 This is before we started painting. Note the spray bottles - these were very cool - you fill them with dye and pump them a couple of times and voila - pressurized dye! Makes three sizes of spray dots...
We did tree paintings...they looked way better while wet than after they were rinsed. Would have been MUCH better for these to have dried before rinsing...I think the colors would have been more saturated. None the less, I kinda like the one I did and may turn it into a pillow with thread painting on it..


Experimenting with dribbling and salt...
The reddish one in the foreground is mine...I sopped up the dye that was on the table from other pieces and came up with an interesting piece...layed rubber bands over it and use the sprayer to make a sort of mock batik...this is my favorite piece we did.
My favorite is on the bottom, the tree is on the top...the other two are ok..but look messy to me. I really should have gone for more of a Melody Johnson look...
We had so much dye left after painting our fat quarters that we dyed t-shirts too. This is mine with several of the 'off' colors of Dharma dye (Old Rose and Peach Fuzz). Off colors are batches that Dharma mixed up that didn't quite dye true to their expected result...so they sell them but once that color is gone...its gone! They had other interesting colors too - Muddy Elephant and Blue Breeze...
I need to do something to this shirt (besides sending it to the Goodwill). My DH says he thinks it looks like a slasher got to the shirt..he says its even too scary for me to use it as a nightie... Any suggestions?