Another August happening was taking my first Silk Ribbon Embroidery class.
The class was listed as embroidering an apron - a velvet or denim apron. Now...I don't know about you, but if I wear an apron, it's to keep splatters and flour and stuff like that off me while I am cooking. I cannot fathom wearing a velvet apron with silk ribbon embroidery on it just for fun. So, I asked if I could embroider something else and they said sure..."some ladies embroider a panel to put in a wall hanging or a shirt"...I decided to make a vest - a vest I will wear! One of the ladies in the dyeing class gave me several large chunks of lightweight wool so I decided one of the grey pieces would make a very nice vest.
The store where I was taking the class is one of the only places I found locally that I can buy silk ribbon by the yard off spools. It was fun choosing which colors to buy. I took the ribbons home and wound them onto cardboard floss bobbins to keep them from getting wrinkled. Most of the ladies just brought the wad of ribbons as they were cut, but I wanted mine to be more under control.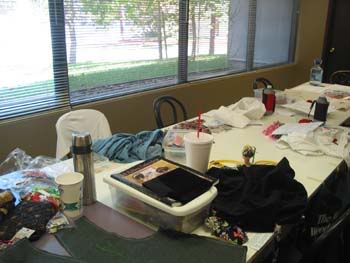 This is the view of the classroom. The lady next to me actually was doing the velvet apron. I loved the fabric she had chosen for the strings and lining. The rest of the ladies facing this direction were doing shirts - either denim or white...One lady on the other side of the table was embroidering a peach colored moire silk panel.
Here is my vest front after the very first spiderweb rose! What fun!
Here is the right vest front after a few hours and learning a few more techniques. I need to put more leaves on to finish this side off and maybe a few more rosebuds. I am going to embroider both fronts and across the top of the back. I haven't decided if I am going to add pockets or not...If I do, I plan to add a bit of embroidery to the pocket placket.
Lazy Daisies and French Knot Rosebuds.
Stock, Spiderweb roses, French Knot Babies Breath, Lazy Daisy Rosebuds and Lazy Daisies.
I took this project in to show the ladies at work. The lady that runs the craft club said "I am going to put you down to teach those roses on next year's program"...more on that later as it develops!