April's Journal Quilt Challenge:
This is the pencil study I did for the piece on Palm Sunday, 2006
Front of Journal Page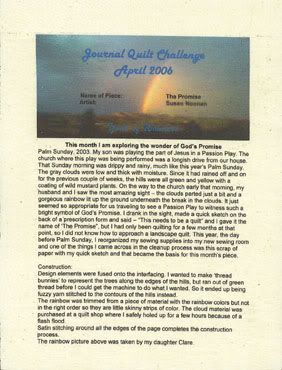 Text of Back:

This month I am exploring the wonder of God's Promise
Palm Sunday, 2003. My son was playing the part of Jesus in a Passion Play. The church where this play was being performed was a longish drive from our house. That Sunday morning was drippy and rainy, much like this year's Palm Sunday. The gray clouds were low and thick with moisture. Since it had rained off and on for the previous couple of weeks, the hills were all green and yellow with a coating of wild mustard plants. On the way to the church early that morning, my husband and I saw the most amazing sight – the clouds parted just a bit and a gorgeous rainbow lit up the ground underneath the break in the clouds. It just seemed so appropriate for us traveling to see a Passion Play to witness such a bright symbol of God's Promise. I drank in the sight, made a quick sketch on the back of a prescription form and said – "This needs to be a quilt" and I gave it the name of 'The Promise", but I had only been quilting for a few months at that point, so I did not know how to approach a landscape quilt. This year, the day before Palm Sunday, I reorganized my sewing supplies into my new sewing room and one of the things I came across in the cleanup process was this scrap of paper with my quick sketch and that became the basis for this month's piece.

Construction:
Design elements were fused onto the interfacing. I wanted to make 'thread bunnies' to represent the trees along the edges of the hills, but ran out of green thread before I could get the machine to do what I wanted. So it ended up being fuzzy yarn stitched to the contours of the hills instead.
The rainbow was trimmed from a piece of material with the rainbow colors but not in the right order so they are little skinny strips of color. The cloud material was purchased at a quilt shop where I safely holed up for a few hours because of a flash flood.
Satin stitching around all the edges of the page completes the construction process.
The rainbow picture above was taken by my daughter Clare.