Last Saturday we went for another Fabric Dyeing class - this time for a 12 step Rainbow.
We each picked a red, a blue and a yellow - Mine were Cherry Red, Electric Blue and Lemon Yellow. Then after weighing the fabric, the instructor printed out a recipe for mixing the colors to get Yellow, Yellow Orange, Orange, Red Orange, Red, Violet, Purple, Blue, Indigo,Teal, Green and Yellow Green. We carefully mixed the required amounts into the glass jars and added salt water, the scrunched up muslin and closed the lids. This time I wanted some mottling to occur so I did not shake the jars too much. Every 15 minutes we turned the jars over. Here are my rainbow fabrics 'cooking':
After an hour and half of turning, we added soda ash water and did another hour of turning. Some of the ladies brought knitting to keep busy and some played Soduku...After soaking in the soda ash, it was time to rinse: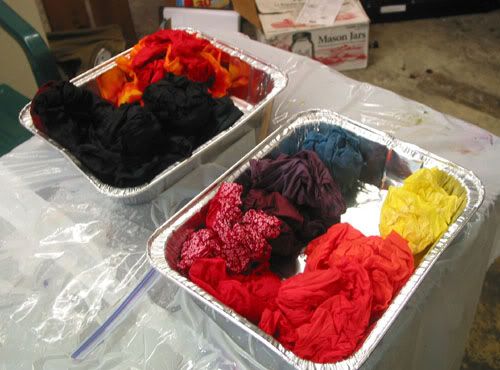 It was taking a long time to get each person's 12 pieces rinsed out so I decided to just take mine home and do the rinsing there. Here are my pieces packed up to go home - they are in seperate zipper bags to keep the dyes from bleeding into the other pieces which happens until the excess dye is rinsed out: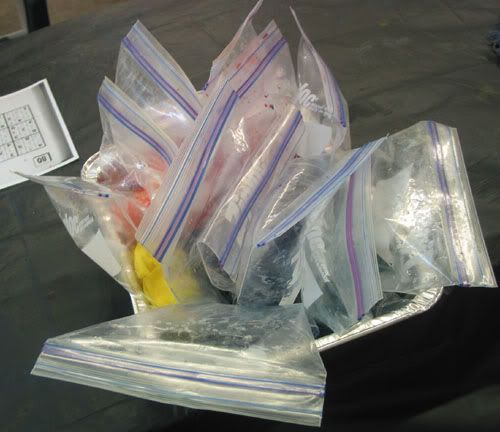 After rinsing, and removing the extra dye with Synthrapol and hot water, these are my pretty pieces of fabric.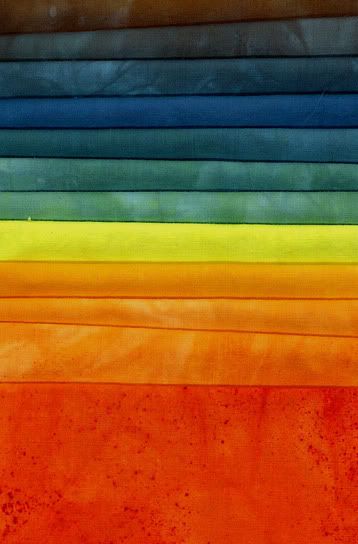 I am MUCH happier with these than the black graduated series, though that was an interesting experiment. My violet and purple did not come out right, and the oranges are too close..If you have done hand dyeing, you will immediately recognize what went wrong by looking at my red piece. For those who haven't done dyeing - the red has little spots of darker color where the dye did not completely disolve before I distributed it in the glass jars - which means I did not mix it enough. But, I like the steely blue that I got instead of purple and the brownish color instead of the violet is interesting too. And I love the red piece with its darker dots! (I want to try sprinkling dry dye on wet pieces to see what happens!) Overall, I am really happy with the results!
Next lesson is in painting with fabric dye - I am anxious to try dye painting with the thickener.