Here's the progress as of Wednesday - with all the buttons and beads it's getting quite heavy!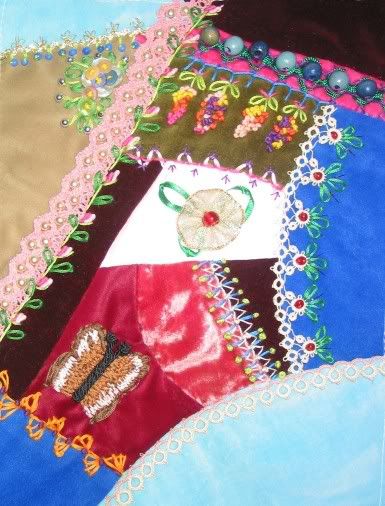 This is the other half of day three's treatments - I used a very shiny red thread between the green leaves - it does not show up as well in the picture as I would like:

This is day six's butterfly... I need lots more practice with the long/short stitching...
Lessons learned on this one:
1. Don't try this on fuzzy velvet if you don't have infinite patience...
2. This stitch REALLY needs a hoop...
3. Plan these kinds of treatments before you put beads on the piece...Beads make the hoop not work....
4. If your chunk of fabric is stretchy and its already lumpy, putting this kind of treatment on it does NOT improve the lumpys...Especially if you can't get it hooped.
Not the best looking butterfly, but its as done as its going to get at this point!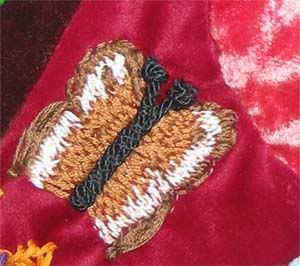 This is day seven's treatment. I started out with a much more contrasting lacing, but could not get it to the backside with the needles I had on hand last night. Did not bead it - don't have enough small ones that are alike. May bead later if I find some beads that look right. This also looks better in real life:
This is the remaining part of day two...At least on the top of the teeny tiny gold rickrack I finally found. The gold thread would NOT go thru the tan velvet - it kept shredding and breaking so I went with something else on the bottom half.
The button is the treatment for day eight...