Here is May's Journal Quilt Challenge (A bit late, but better than never!).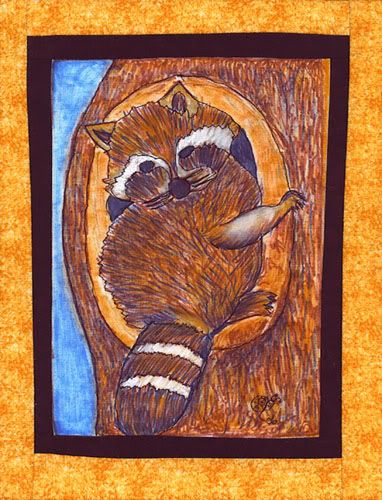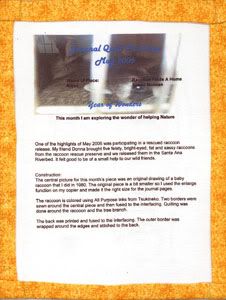 Text from back:
This month I am exploring the wonder of helping Nature.
One of the highlights of May 2006 was participating in a rescued raccoon release. My friend Donna brought five feisty, bright-eyed, fat and sassy raccoons from the raccoon rescue preserve and we released them in the Santa Ana Riverbed. It felt good to be of a small help to our wild friends.
Construction:
The central picture for this month's piece was an original drawing of a baby raccoon that I did in 1980. The original piece is a bit smaller so I used the enlarge function on my copier and made it the right size for the journal pages.
The raccoon is colored using All Purpose Inks from Tsukineko. Two borders were sewn around the central piece and then fused to the interfacing. Quilting was done around the raccoon and the tree branch.
The back was printed and fused to the interfacing. The outer border was wrapped around the edges and stitched to the back.