My favorite coin purse... I got it as a gift from a friend probably close to 20 years ago. Its been in nearly daily use since then...I love how it fits into my pocket at work so I don't have to drag my full purse down to the cafeteria. Anyway, since its been around that long, it got a wee bit worn. I patched it up a couple of times by sewing fabric to the inside, but as you can see, it was on its very last legs as the leather is crumbling: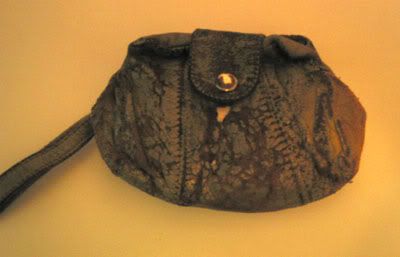 I have searched for a coin purse like this one every place I go that has leather goods - but have never found anything close. Nothing to do but take it apart to use it as a pattern to make a new one. Here it is in pieces after I spent some time with it and my handy dandy frog-stitcher: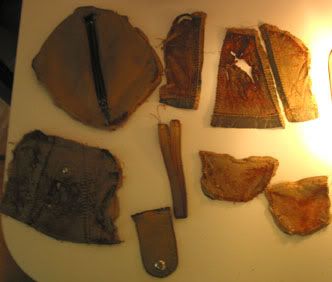 Here are the supplies I purchased over a year ago (I've known this day was coming for a long time!). A new zipper, some snaps, upholstery thread, BIG needles and of course, some leather!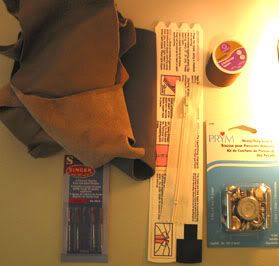 Sewing leather is a gas. Not the same as fabric at all - it sticks to the bed of the sewing machine and if you start too close to the edge, the leather disappears into the bobbin area and pulls the needle plate up (mine is held in place with magnets...) - you have to start far enough for the feet to get a good grip! And...pinning is not easy - I ended up holding the final pieces together with safety pins! After a few hours, I now have a NEW version...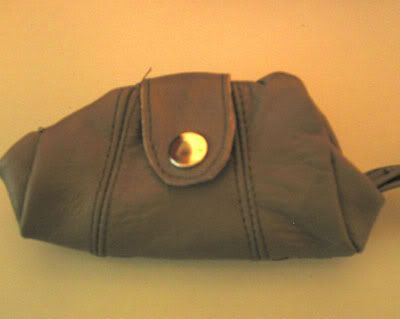 Not quite the same...the old one is floppier where this one still is stiff...but I expect after a few months it will probably soften up!
I may try making one in ultrasuede as that might be a little easier to sew.