I also did some crazy quilting during September. In a number of blogs that I follow, I kept seeing these really cool crazy quilt hearts. Seemed like an interesting shape for a crazy quilt block...so I tried one too!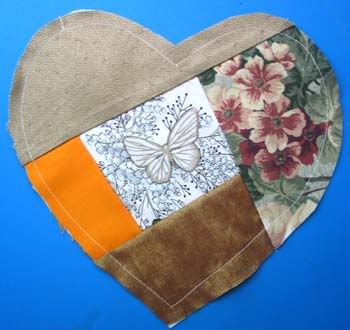 This is the first cut at the heart...I looked at it for a few days and decided it needed more pieces and seams...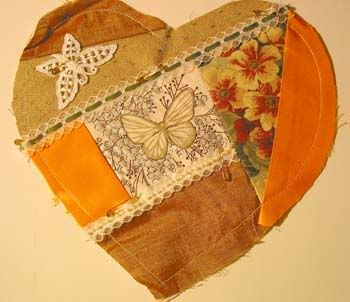 So...I added some more! This is after adding a couple more pieces of fabric and deciding what pieces of lace to use.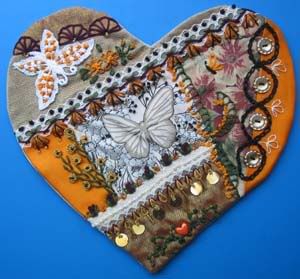 This is the completed heart. Some of the seam treatments were from the 100 Details that are being shown on sharonb's InAMinuteAgo blog...some are just what I thought looked like it belonged. My favorite is the caston flowers...those were cool to make!
I decided I will applique it to a background, sandwich and quilt around it and make a wall hanging...I need some help deciding which of the following backgrounds looks the best: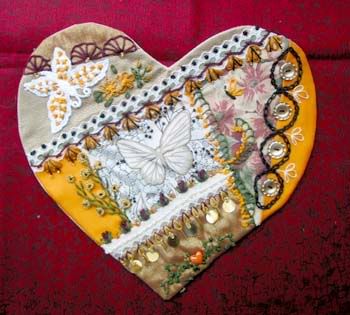 Red...or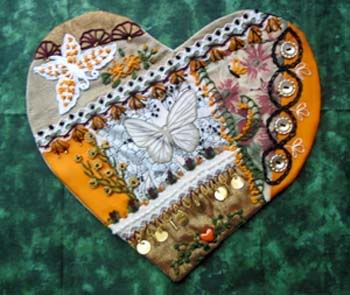 Green...or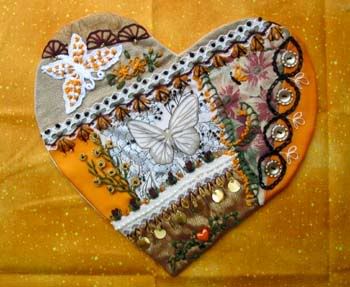 Gold?
By the by, most of the fabrics for this heart came from a lady on the About.com Quilting forum who was moving last month and wanted to get rid of some 'fancy scraps'...I decided to stick with mostly the fabrics that she sent me - the only extra is the coppery colored lame'.