Yesterday, quilt shops across the US put on local events for the QuiltPink Day. My local shop invited us to create quilts out of blocks that had been created by customers over the last month or so. We arrived in the morning, set up our machines and went to it! Some of the ladies did squaring up, some did row sewing and some cut and sewed the borders. We had enough for 4 quilt tops and some extra blocks - there were some that came in too small which we turned into table runners - but we needed some extra blocks to finish off the 5th quilt...so some of us cut out more blocks and whipped them up. We got so into making more blocks we had enough for another whole top! Here are some pictures of the event:
We all got a QuiltPink bracelet (its really tough trying to photograph your own body!) She also gave us a card to hang in the shower to remind us to DO YOUR BREAST EXAMS!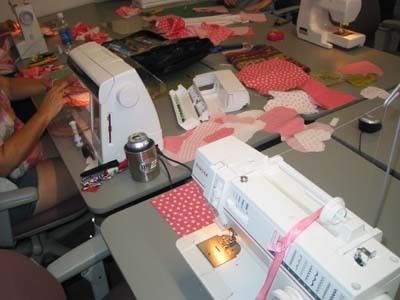 This is the sewing area...that's my machine in the foreground. Next to me is my friend that celebrated her 1 year anniversary of her mastectomy the day before. My friends and I were there in honor of her.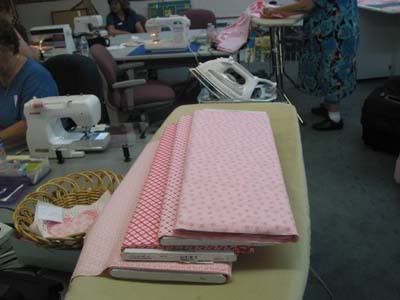 More fabric! We made enough extra blocks for a 6th quilt top!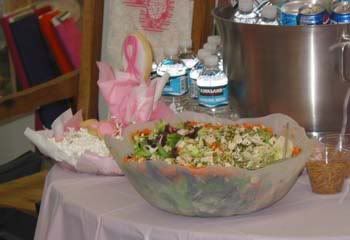 This was the lovely Chinese Chicken Salad that the shop provided for our lunch - YUM!! In the background are some tasty pink cookies.
This is the layout table. The blocks were all raw-edge stacked hearts made in the QuiltPink Moda fabric line.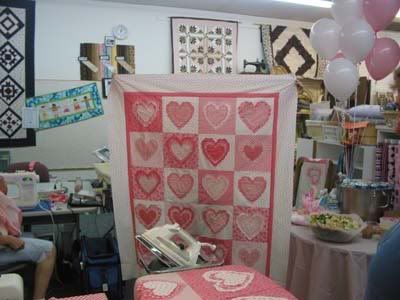 Here's the first finished quilt top...isn't it cute? The shopowner is going to have them longarm quilted then all but one will be sent on to be auctioned off...the remaining one she is going to auction off at the shop....I will be stopping by to buy a ticket!
After the QuiltPink event...I went to the tailor shop in the same center to have the hem put up on my Mother of the Groom dress. The two ladies in the shop were so cute. One suggested a modification to the wearing of the dress that has me giggling - if you look at the picture of the back, there are two longish ruffles draping down from the back bodice. She showed me that if I pulled those ruffles up and to the front, they would make very cute 'sleeves'...I just have to find a couple of cute smallish golden pins or maybe one large pin (and fasten the other side with a hidden safety pin)...This makes the dress not look quite so bridesmaidsey...HURRAH! I pick it up next Friday on the way home from work.