June Journal Quilt Challenge - Fractured Fancy - My Adventure into Crazy Quilting: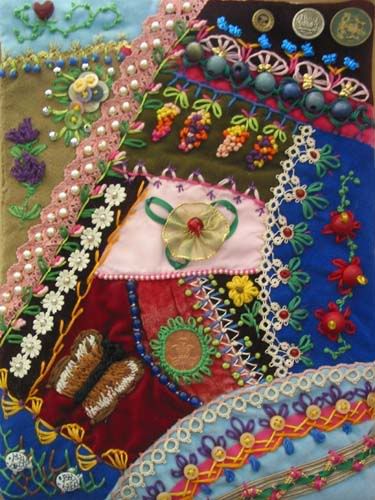 These are the last few details that I added...
Some beaded flowers with French knot vines:
Drizzle stitch flowers:

Another vine with French knots:
Daisy lace with pearl centers and feather stitching:
Some fancy old brass buttons:

I haven't done the text printing on the backing sheet as I am having trouble with the computer that the printer I need is attached to. I finished the page with a pillowcase backing and slipped the Timtex stiffening sheet inside. The backing information will be buttoned onto the back. One of the things I am happiest with on this page is that it was done without buying anything new! The velvets came from my Granny's stash and the beads, laces, ribbons, buttons, embroidery thread and the tuppence came from either my stash or my Mom's stash.